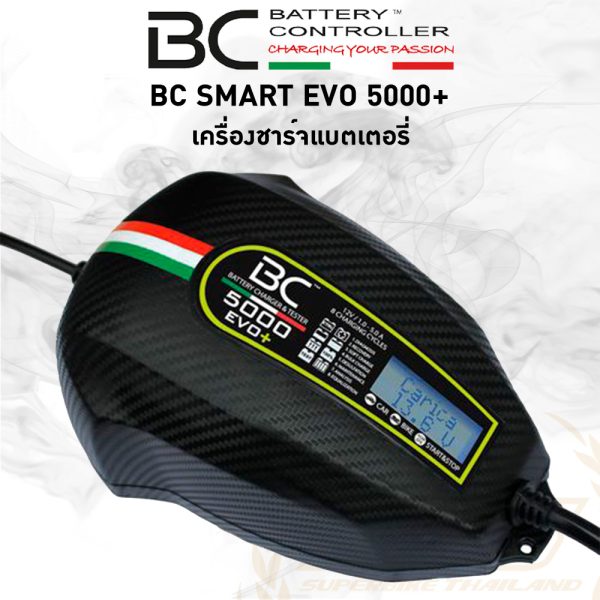 เครื่องชาร์จแบตเตอรี่ BC SMART EVO 5000+ Battery Charger
BC SMART 5000+ is a smart battery charger with an embedded microprocessor, a temperature sensor and a multifunction LED bar, able to inform about the battery state of charge (50%, 65%, 80%, 100%) and the working program.
It is ideal for the daily usage of demanding customers looking for a charger with unrivaled value for money on the market, to manage their batteries up to 160 Ah, fitted on motorcycles and car.
It can solve many battery related problems from the initialization of new batteries to the recovery and desulfation of used batteries, from charging to long term maintenance, thanks to its exclusive function of monthly equalization.
The START&STOP program is optimized for AGM & EFB batteries. Moreover the Power Supply program allows to replace the battery without losing data stored on the vehicle (memory saving function).
Features:
* 4 programs: CAR for car batteries, BIKE for motorcycle batteries, START&STOP for AGM/EFB batteries and POWER SUPPLY (memory saver)
* 8-steps charging algorithm: recovery (from 1.25V), charge, desulfation, analysis, maintenance and equalization
* It verifies if the battery is able to retain its charge
* 6 LEDs multifunction bar
* Battery types: traditional, gel, MF, AGM, EFB, VRLA, Ca/Ca
* Embedded temperature sensor
* Protections: polarity inversion, short circuit, overcharge, overheating. No sparks
Technical Data:
Input Voltage: 220÷240V ac, 50-60Hz
Output Voltage: 13.8V/14.4V – nom. 12V
Charging Current: 1 A max (Bike) / 5 A max (Car/Start&Stop)
Operating Temperature: -20°C – +50°C
Size: 177 x 127 x 70 mm
รายละเอียดเพิ่มเติม
BC Battery Controller รุ่น SMART 5000 EVO+
สามารถชาร์จได้ทั้งรถยนต์และมอเตอร์ไซค์
ระบบชาร์จ 3 Mode (Car,Bike,Start/Stop)
– CAR สำหรับแบตเตอรี่รถยนต์
– BIKE สำหรับแบตเตอรี่รถจักรยานยนต์
– START & STOP สำหรับแบตเตอรี่ AGM / EFB
ตัวเดียวจบมาพร้อมอุปกรณ์ต่อพ่วงครบกล่อง
– ใช้ได้สำหรับประเภทแบตเตอรี่ : แบบธรรมดา, เจล, MF, AGM, EFB, VRLA, Ca/Ca
– รองรับแบตเตอรี่ : 12 V, 13.8 V, 14.4 V
– ใช้งานง่าย ด้วยระบบการชาร์จอัตโนมัติ
– โปรแกรมการชาร์จแบบ Algorithm 8 ขั้นตอน : recovery (from 1.25V), charge, desulfation, analysis, maintenance and equalization
– ฟังก์ชั่นการทดสอบคุณภาพแบตเตอรี่และคุณภาพไดชาร์จ
– มีระบบการป้องกัน : การต่อผิดขั้ว, ไฟฟ้าลัดวงจร, การชาร์จไฟเกิน, ความร้อนสูงเกินไป(overheating), ไม่มีประกายไฟ
– มีแถบไฟแสดงสถานะและหน้อจอ LCD แสดงผล
– ช่วยถนอมแบตเตอรี่ให้มีอายุการใช้งานที่ยาวนานยิ่งขึ้น
เครื่องชาร์จแบตเตอรี่ประเภทนี้ เป็นการชารจ์แบบ Slow Charge (ชาร์จช้า)
สินค้ารับประกันตามเงื่อนไขของบริษัท
สินค้าผลิตและนำเข้าจากประเทศอิตาลี